Archo

-

Architecture & Interior HTML Template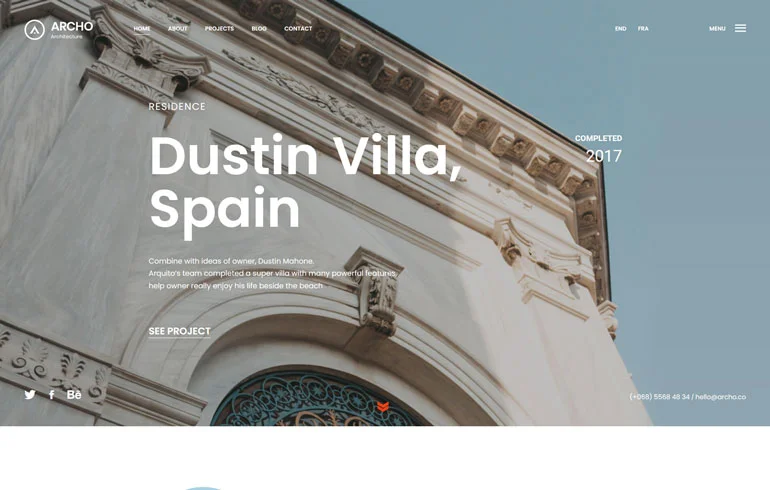 Nowadays, before going anywhere or doing anything, people are used to searching them on the internet to get some clear information.
If you own a business or an architecture agency and you don't have any existence online, then people will lose the appeal towards your company. This can be a backlog for your prestigious institution. To solve this dilemma, we are presenting Archo – Architecture & Interior HTML template to you for free.
You can use Archo interior HTML template to design any kind of website related to any eCommerce business. Certainly, the light colour and simplistic design of this template are enough to create an aesthetic vibe.
The header and footer of Archo are designed with great efficiency so that they can work as the ornaments of this template.
Furthermore, a king-size banner, with lots of blank spaces across the whole homepage, and interactive designs and icons will demonstrate the professionalism of your company.
Additionally, you can display some of your prominent projects, clients with whom you have worked, attributes of the company, and your blogs on the front page. These things will help to convert the visitors directly into customers.
Moreover, in the about section, you can introduce your valuable team to the whole world. Our designer team has tried their best to display all the projects in a collage manner on the Projects page of this template.
This unique thing is admirable. Customer interaction will be easier with Archo because of its dynamic AJAX Contact form.
Archo is designed with Bootstrap 4. Usage of Owl-Carousel Slider and responsive layout will make the user experience extremely smooth.
It has valid HTML & CSS coding with good documentation. Total 7+ HTML pages of Archo is enough to design a proficient website. Archo is fully compatible with all major browsers such as Firefox, Safari, Chrome, Vivaldi, and Microsoft Edge.
You can use it freely or you can avail some pro features such as changing copyright features and after-sales support.
To maintain credibility, we will render free updates to this template daily. To mark your footprint online, choose Archo – Architecture & Interior HTML template for your website.
Main features: