Uthr

-

Fashion ECommerce Bootstrap 5 Template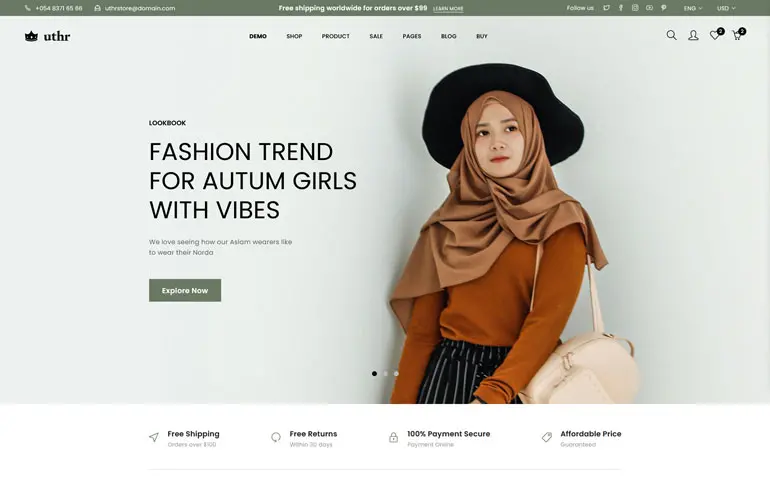 At present, e-commerce businesses based on apparel or fashion has become a trend. Without being different from others, you will not be able to attract customers as well as survive.
To design a fashion website uniquely, you have to choose a tasteful template. For that, we are presenting Uthr – Fashion ECommerce Bootstrap 5 Template to you.
Most importantly, we have developed Uthr fashion eCommerce template with modern features and technologies to make your business website more productive. This template is a mixture of technology and elegance.
Firstly, the homepage of this template is just different from every other template. We have done it to eradicate the monotony of common e-commerce websites. Secondly, you can decorate your website according to your own will with 7+ uniquely designed HTML pages.
Moreover, the shop section of Uthr is packed with every needed feature such as products filters, eye-catchy banners, recent product updates, page annotations, and lots of things. On the product details page, you can display product images, descriptions, reviews, tags, additional information harmonically.
Additionally, for making the designing process more effortless, we have added every needed element, namely, coupon section, shipping section, billing details, and payments method section in the Cart and Checkout page.
All these features with a free template are unthinkable. Usage of Slick Slider and Google font has enhanced the beauty of Uthr. This browser is cross-browser optimized and fully compatible with all major browsers. Uthr is SASS compatible with the W3 web standards.
In addition, we have made Uthr SEO friendly so that you don't have to do massive SEO works in this template. For helping visitors to find you on social media, there are decorative icons under each page. Uthr has a premium version also.
If you avail of the pro version, you will get the opportunity of changing copyright, playing with PSD files, and getting lifetime technical support.
In conclusion, for designing a distinctive fashion website to attract more customers, choose Uthr – Fashion ECommerce Bootstrap 5 Template without any hesitation.
Main features: